Enabling Bluetooth and Location Services
Aro uses both Bluetooth and Location Services to make the connection between your phone and the box. You can find more information on the Aro app permissions here.
Confirm Bluetooth is enabled

On your phone, select Settings -> Scroll down and select the Aro app -> Enable Bluetooth.

Confirm Location Services are set to "While Using the App" or "Always" for the Aro app

On your phone, select Settings -> Scroll down and select the Aro app -> Select Location -> Select Always or While Using the App.
Please note, at no point does Aro request, view, or store your actual geographic location. You can learn more about the Aro app Bluetooth and Location permissions here.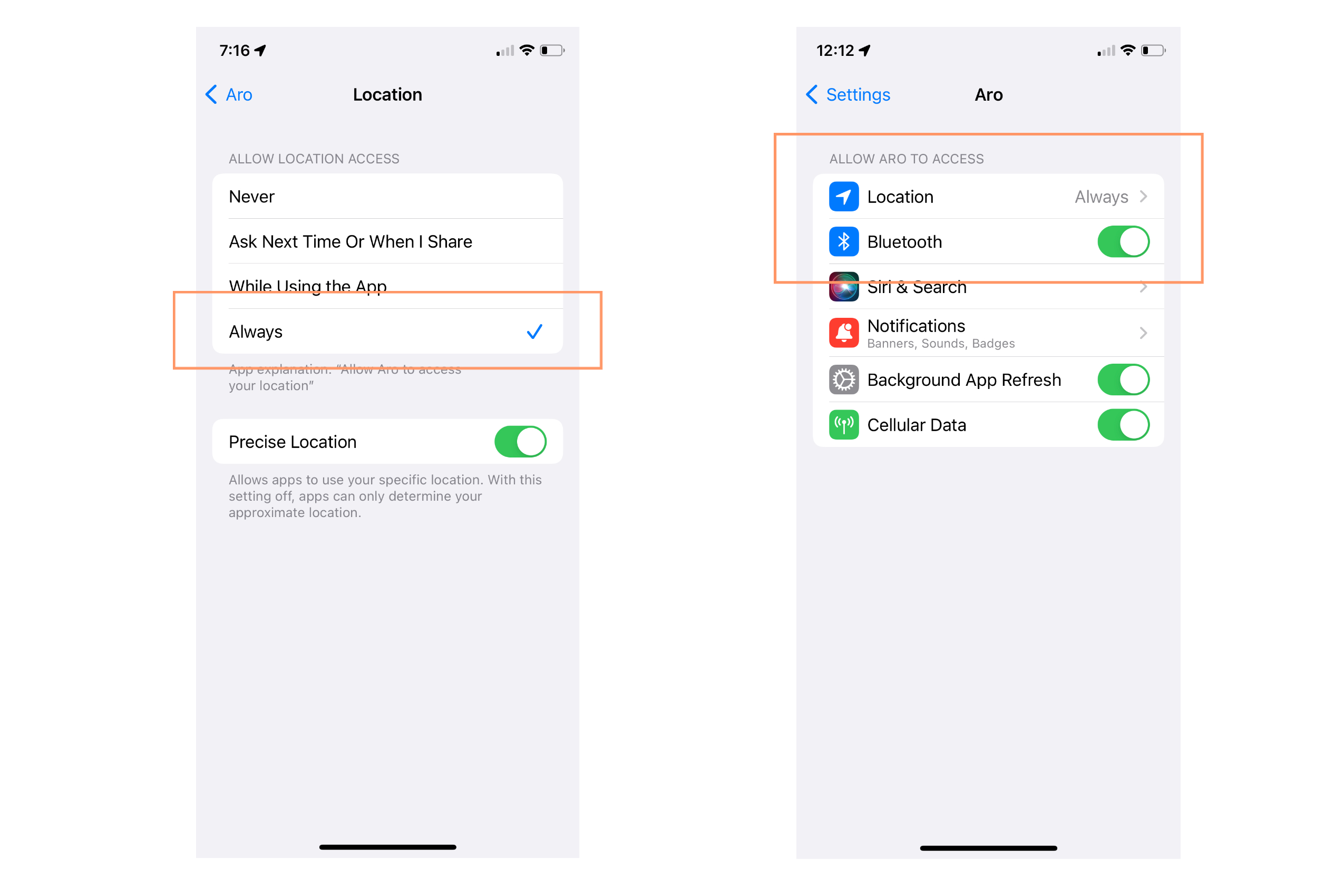 Running the Aro app in the background
Another thing that can lead to missed sessions is if the app is not running in the background. The Aro app doesn't have to be open on the screen to connect, but it needs to be available in the background to connect. The process we are all familiar with of swiping up on apps to close them in the background will prevent the box from detecting the phone.
Restart the App
Swiping up from the bottom of the screen will allow you to see all apps running in the background. Navigate to the Aro app, swipe up to force close, and reopen it.
Restart the Box
If connection issues persist, the box may require a reset. To reset the box, unplug the box from the wall, wait 15 seconds, and plug it back in. From there follow the instructions above to test the connection between your phone and the Aro box.
Testing the Connection
Once you have restarted the app and/or the box, the best way to test the connection is to open the app and place your phone in the box with the screen on to confirm it connects by seeing the "Session in Progress" message. From there, you don't need to keep the app open to connect, but please don't "hard-close" it by swiping up on it. It does not take up any memory or space on your phone while running in the background but it's available for the box to detect and connect to.
If issues persist or you require additional assistance, please contact support@goaro.com.